Back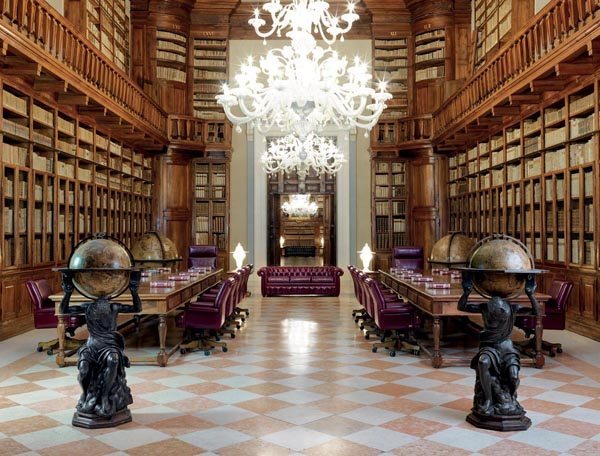 28.03.2017
The Mantuan Teresiana
The Mantuan Teresiana Library was created by will of Empress Maria Teresa of Austria, and that is why it is ordinarily called the "Teresiana". It has deep historical roots in the social and cultural life of the city. Its establishment was part of a larger plan for cultural reforms, planned by the Viennese government.

After the renaissance of the Science, Arts and Literature Academies, the Austrian Government created the public library of the city with two big rooms embellished with walnut shelving, readapted by the Italian architect Paolo Pozzo and called First and Second Teresiana rooms. These enormous shelving, realized initially only for the first room, were inspired by the style of Fisher von Elach, architect of Hofbibliothek of Vienna.

At the end of 18th Century, the Austrian empire accomplished the reform of the public libraries with the inauguration of the Braindese of Milan and the libraries of Cremona, Como, Lodi and the University of Pavia which will became state properties with the Italian Unification. Only in 1881 the Library's ownership was transferred from the state to the municipality and a new season began.

The library is situated in via Ardigò and it is part of the enormous historical structure of Jesuit, the religious institute. The Jesuit set themselves up in Mantova in 1584 till their suppression by the Pope Clement XIV. The Jesuit were designated to the academic education of the ruling class of the city and the Library was originally only for the lecturers and the Gymnasium students. Their new residence was the "Palace of Study" built between 1753 and 1763 by the Bolognese architect Alfonso Torreggiani. The Academy Palace overlooks the ex-college of Jesuits, seat of the Mantuan academics from 1562 and now location of the National Academy of Virgilia. The totality of these buildings is the Mantuan City of Studies.

The artistic library heritage is really valuable: the first set of volumes come from the Jesuits library and from the Carmelite monastery. Many prestigious volumes were bought from Viennese, Cremona and national Braidense libraries. Some other scientific books come from the "Cornaro" Library of Giacomo Soranzo, senator of Republic. During the French Government, the Library enriched of manuscripts of the Augustinian, Dominican and Franciscan monasteries.

The Museum preserved many Greek Roman sculptures, which were confiscated by the Austrian government, together with the most important collection of Vespasiano Gonzaga in Sabbioneta. Today the content of the museum is preserved at the Ducal Palace.

The Library was seriously damaged by the earthquake (May 2012) and after a long restauration process, it was possible to open its historical wing (2014, March 29th), exactly 234 years after its launch in 1780, March 29th.

With its over old 40.000 volumes, the Municipal Mantuan Library is one of the most beautiful library of Italy.